The First Product I use in Etude House!
Actually, the main and the first reason tat I bought this BB all because of its packaging!!!
I saw it at Taiwan night market and I realised tat it is the Etude House product after 1 year I use><
Btw, when I go again into Malaysia Etude House I cannot find this product
So disappointed with that=(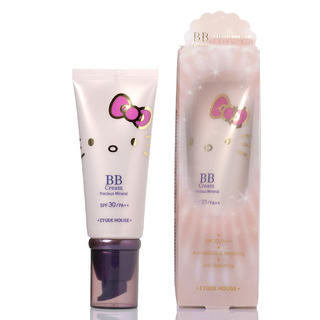 This BB Cream is By ETUDE HOUSE -- HELLO KITTY PRECIOUS MINERAL BB CREAM [#2 Sheer Glowing Skin]

SPF30/PA++
Science this BB cream contains adenosine and arbutin for anti-wrinkle and whitening properties, I love to apply this before I done my make up. It is good enough for coverage and I dun need to use concealer as well.
SPF30 provide an UV protection and anti darkening properties.
I used this everymorning as a protection before I go out. This cream didn't have any weird under a slight scent of the sunscreen. But if u have to explore a long time under sunscreen better apply an Etude house Sunn Prise with higher SPF and water prove.
This BB came in a tube and has a pump just like the picture below.

This make me easier to control the volume I want to squeeze and prevent wastage.
I have only one complaint about this bb cream, I wish there was a sponge at the front of the tube so tat I can apply it balancely on my face~

Since the this BB cream colour is quite fair and more suitable for ppl with fairer skin to choose it!
I will write a review about Etude House CC Cream+Volumer as soon as possible=)
I would like to share other Etude House Hello Kitty Product here!!!
The perfume and the mini lip balm are SUPERCUTE!!!
If I got c this in Etude House next time, I am sure I will Try It^^